Model Sondra Barker
Welcome To My Modeling and Portfolio Website!
Sondra Barker was originally born in Morocco, Africa and raised in NY. She then went to college in Oahu, Hawaii where she began working as a model after winning the Venus Swimwear Model Search. She was then flown to Florida for an Official Shoot with Venus Swimwear and signed with an agency in Hawaii soon after that.
Since then she has done modeling for numerous clients including Nike, Morgan Barret, Japanese Magazines, Venus Swimwear and more. Sondra Barker also will be hosting FUEL TV's M80 show as thier Toekn Hottie and Hosted & Co Produced the show "Play'd" which aired in Hawaii. In addition to Hosting she has also been in several Independant Films all featured in the Hawaii International Film Festival and was in the Theatre Production "The Honey Mooners: Lost Episode" with Pat Sajak & Joe Moore.
Sondra Barker will be Featured in Playboy Magazine this Summer!

Sondra Barker had her official photoshoot with Playboy in February 2007 and will be in a future issue of Playboy Magazine due to come out this summer. While we cant show any sneak pictures we can say there was a Hawaii Theme. More info to come!!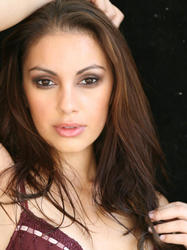 Contact Information Form/ Guestbook
New Contact Information Form/ Guestbook! If you're interested in working with me or if you just want to say hi, please feel free to fill out the form below. I look foward to hearing from all of you!